Between You and Me
Between You and Me - June/July, 2020
Rabbi Meiri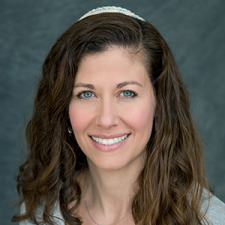 Like you, there is nothing I'd rather do than to put this uncomfortable and unfortunate Covid-19 chapter behind us. As challenging as it has been to practice socializing from a distance and translate our Temple's spiritual life to live streaming and Zoom platforms, it has proven far more daunting to get clarity on the right steps we should take to return to in-person congregating. As much as I've enjoyed "seeing" so many more of you online at services and as precious as the conversations I've had with those of you to whom I've reached out to as I go through the temple roster, I still long for the time I'll be able to see you all in the flesh, to hug you and to tell you how much I've missed you. I desperately want to return to having services together in our sanctuary and outdoor amphitheater. I'd love to be able to kibbitz with you at an oneg or Sunday brunch. I'd like to resume learning together and see our building return to being the lively hub of Jewish life that it was.
That said, there is only one measure that will matter to me in our decision making moving forward. We, like synagogues all over the United States, will be guided by one longstanding, traditional Jewish standard: that above all else, we must preserve life. Those of you who have been pregnant or in ill health during the High Holidays know that you were obligated NOT to fast because doing so might endanger your health. Those of you whose baby boys were jaundiced or had other health complications on their eighth day of life were required to delay his brit milah until his conditions stabilized. This principle, in Hebrew called pikuach nefesh or preserving life, stems from a verse in Leviticus which states, "You shall therefore keep my statutes and my rules; if a person does them, he shall live by them…" Talmudic sages explained that what the Torah intended by this verse is that Jews should live by the laws of Torah rather than die because of them. In short, we will get back together to pray and to play when we know that doing so doesn't put anyone's life or health in jeopardy. Before we have credible evidence-based information on how to keep everyone safe, inviting people back into the building might be tempting but isn't feasible under the standards of our tradition. Instead, resuming in-person gathering might be tantamount to violating another principle in Leviticus: placing a stumbling block before the blind.
I am fully sensitive that the preservation of life is not the sole consideration that our civic leaders must weigh, and therefore the Temple opening may not happen with as much speed as other sectors of public life. I pray that you will practice patience and fortitude as we navigate our congregation's next steps. Please take advantage of the virtual offerings. Those who are tell me it is making a difference for them during this most challenging time. In fact, our attendance has skyrocketed! Our services remain uplifting and your presence in them uplifts everyone else. [And feel free to chat during services with reckless abandon! It's fun and it enlivens these most precious relationships.]
CBHT remains your temple home and you belong here. If you are in crisis, because of the virus or otherwise, please reach out to me by phone. In the meantime, the staff, lay leadership and I are committed to continuing to create ever more ways to bring you here in spirit until we can be together in person.
Mon, April 19 2021
7 Iyar 5781
Current & Previous Messages
Mon, April 19 2021 7 Iyar 5781