Between You and Me
Between You and Me - August, 2020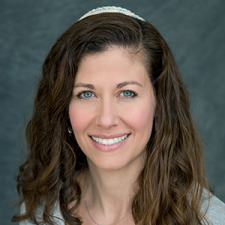 In the last five months, I'm sure there's not one among us who didn't miss a planned vacation, a visit to family, a graduation, a Bar Mitzvah, or hasn't had to spend the last 5 months reorganizing family life, work life, and daily routines. For some, the pandemic has been a welcome occasion to reassess and readjust our lifestyle. For others of us, the upheaval and uncertainty of quarantining and closings have been dramatic and unsettling.
In the rollercoaster that is our reality, one thing on which we can depend is the constancy of the Jewish calendar. I can't tell you much about the future (the truth is I never could), but I can tell you with great certainty that the Days of Awe will arrive again this year on time. (They are actually never late or early.)
Rabbi Alan Lew reminds us that on Rosh Hashanah, we will stand before God. "What will God see on that day?" Lew asks. "What will you see? This encounter can carry you significantly closer to the truth of your life. Standing in the light of God, you can see a great deal more than you ordinarily might, but only to the degree that you are already awake, only in proportion to the time and energy you have devoted to preparing for this encounter."
This is truer this year more than ever before, as we prepare for a holy day season like we've never experienced before- one that will be streamed into your homes. As you already know, you can't depend on the usual cues to get you in the mood and prod your heart to do the hard work of introspection and atonement: the familiar sacred envelope of your sanctuary, the press of the crowd at your sides and the press of the pew underneath you, the thick silence that begins it all.
Nevertheless, you can catch a glimpse of a truer truth of your life to the extent that you awaken and prepare yourself. To this end, I invite you to partake of the host of offerings we are making available during Elul, the entire month leading up to Rosh Hashanah. Begin joining your Temple family and having your sacred journey through our Days of Awe begin to gather momentum. Every day of Elul, I will provide a teaching on a different middah, character trait, on which you can focus your introspection. Billy will offer his very popular Elevating Elul series again. When invited, please contribute to the communal confessional prayer, Al Cheyt.
We will also provide video tutorials to ensure you can access all our streaming platforms we will use to have our High Holiday services and experiences. While I encourage you to spend Elul transforming your home into a sanctuary and your heart into the Holy of Holies so you can encounter God, know you are not doing it alone. To be a Jew is to hold the antidote to despair, to choose to reach out to conquer aloneness. As we pause to reflect before entering the month of Elul and the cycle of the High Holy Days, consider any ways in which you have felt yourself turn away, and consider what it would mean to turn toward. With connection comes purpose, joy, and strength.

Mon, April 19 2021
7 Iyar 5781
Current & Previous Messages
Mon, April 19 2021 7 Iyar 5781