Between You and Me
Between You and Me - October 2020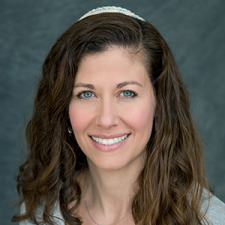 As the team and I prepared for High Holidays, I was struck by how many times I said to myself, "This is one of my favorite moments of the whole High Holidays!" I guess I have a bunch of those: the excitement I feel when we open Erev Rosh Hashanah services with Rachelle Nelson's beautiful Shehechiyanu; crying at the ark during the choir's grand performance of the Stark Kedushah on both Rosh Hashanah and Yom Kippur mornings; processing behind the sifrei Torah and greeting all of you in the aisles; sharing out loud our joys during the Yom Kippur afternoon service. I'd love to hear from you what your favorite moments are. I'm glad we got to experience a few of mine this strange year, especially one of my most beloved moments- the vidui hatov, or what I lovingly call the "reverse Ashamnu."
After a whole month of tabulating and accounting for all the missteps, all the things about ourselves that bear improvement, and after ten extra days confessing our litany of transgressions in our repeating the vidui ha-ra, at the end of the ne'ila we recite a single prayer confessing all the good we did, too. The version in our machzor was written by Rabbi Binyamin Holtzman in 2002 and is based on a teaching of the early 20th century giant, Rabbi Avraham Yitzchak HaCohen Kook. He wrote, "A person should be joyous concerning the good he or she has done. Just as there is a great benefit to self-improvement through confessing one's sins, so is there great benefit to confessing one's good deeds."
In just a few days, we will go outside into our sukkot and celebrate the festival of harvest --- which coming on the heels of the Days of Awe honors our harvest of soul just as much as the harvest of the earth. And when we conclude that holiday, we will celebrate the turning of Torah from the end to the beginning on Simchat Torah. The month of Tishrei is a veritable marathon of holy days.
But on October 19th, the calendar will turn to Cheshvan, the only month with absolutely no celebrations or commemorations. For that reason, some (not rabbis!) have nicknamed it Mar Cheshvan, bitter Cheshvan.
I'd like to suggest that we consider it Matok Cheshvan, sweet Cheshvan, and take with us into Cheshvan this small piece of our journey through the sacred days of the holidays. Focus on reminding yourself of all the good you did, and balance out the breast beating about times you made things go very wrong with a joyous but humble remembrance of the times you made things very right.
In times like these, when nothing seems right, there were times you met the difficulty of the moment with grace and kindness. You shined light into another person's dark day. You connected on another level with a person you didn't know. You made it through the day without hurting yourself or anyone else. You loved. You cried. You learned. You believed. You tried your best. May it be a sweet Cheshvan for you. And may the good in you be multiplied!
Wed, September 22 2021
16 Tishrei 5782
Current & Previous Messages
Wed, September 22 2021 16 Tishrei 5782