Between You and Me
Between You and Me - December, 2020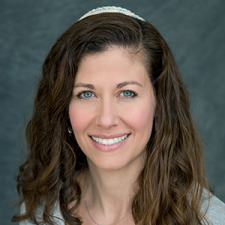 As we crest a third wave of COVID-19, I still get asked at least once a week by some hopeful soul in the congregation, "Do you think we will be able to open the temple sometime soon?" As I write this, it doesn't look like that will be possible in the near term. However, as the time in quarantine wears on, I'm grateful for these regular reminders from you that folks continue to deeply long to return to our Temple. If you think about it, we Jews are experts at yearning for the day we can gather at our Temple. We've been doing it as a people for over two millennia.
In just a few days, the festival of Chanukah arrives again. For eight nights we will gather at our windowsills and light our nine-branched menorahs as a reminder of how during the reign of the of the Greek-Selucid King Antiochus the Jewish people were, like us, exiled from their sacred Temple home. All the rituals that took place there that united them as a people and connected them with the Divine had been halted by orders of their Greek occupiers. After the Maccabees were victorious against them, only one cruse of oil was found in the defiled sanctuary to relight the Ner Tamid, the eternal light, in the sanctuary and rededicate (chanukah, in Hebrew) the Temple. As the story goes, that one sealed container lasted for eight days until more pure oil for lighting could be procured by the priests. In the years that followed their defeat of the Greeks, the Jewish people the world over decided to install a festival to commemorate the miraculous event in Jewish history.
Two centuries later, that same Temple would be completely destroyed by the Romans, rendering the Jewish people exiled again both spiritually and physically from it. The Talmud records that there were some authorities who became convinced that, without a Temple, observing Chanukah should be abolished, too. After all, what sense did it make to celebrate the rededication of a Temple that no longer existed? Despite at least one town who banned Chanukah, the prevailing approach they took was for Jews continue to celebrate Chanukah because keeping alive faith, hope and the story of triumph was more important than succumbing to fatalism, acceptance and despair. If the Maccabees victory of the spirit and of light over darkness was possible once, then it might be possible again.
This year as you light your Chanukiah, perhaps you might invite that same spirit of hope to infuse your celebration. What could be more important this Chanukah than to dedicate ourselves, like the first rabbis in 71 C.E. who faced the darkness of a world without their Temple, to the hope that someday we will return.
Thu, August 18 2022
21 Av 5782
Current & Previous Messages
Thu, August 18 2022 21 Av 5782