Between You and Me
Between You and Me - October 2021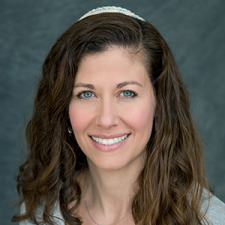 The 7th of October is the first day of the Hebrew month of Cheshvan. It is the only month in the Jewish calendar that has no holidays, commemorations, or fast days. If every other month contains some kind of observance that leaves a fingerprint on the month's character, Cheshvan is noticeably empty and ordinary. With all the intensity that infuses the month of Tishrei, I think the rabbis were right in giving us an additional calendar month not to take off from the task of spiritual refinement, but rather to integrate and absorb all that transpired.
In that spirit, I offer you highlights of my holiday messages that I hope you will bring with you into the weeks of Cheshvan ahead:
"We cannot fully be Jews living frightened, holed up in caves. To this day, this is one of our truest Jewish obligations: to face our world with faith that we can bring better days, even when the world looks dark and lost. Because for Jews, nothing is ever irrevocably lost. We learn this from the verse in Deuteronomy, "If you see your fellow's ox or sheep gone astray; you must not ignore it. You must take it back to him." The Rabbis understood this to mean that we are not allowed to say something is lost and gone forever. Things that are "missing" or "astray" cannot become, in our minds, "lost." And so, what begins as an obligation to return a missing animal becomes for the Rabbis a visionary life philosophy. We are not allowed to see the world as lost. And we cannot allow all the brokenness to overwhelm us and tempt us to retreat into our caves so we can avoid facing it. Nothing is lost unless we allow it be lost. Dear friends, this is the even shtiyah, eternal optimism of our tradition, the foundation stone."
"In the face of trial and challenge, [we need] to fight our every instinct and habit to hide or deny or accept defeat but rather lean on the wisdom of echolocation, calling and responding with the only word on our lips that makes any sense at all, hineyni. I am here and I need you. Or, here I am, responding to you. Here I am. Here. Here. For you. This is the time to remake ourselves in the spirit of the prophet Isaiah who said, "I, responded to those who did not ask, I was at hand to those who did not seek Me; I said "Hineyni, hineyni. I constantly spread out My hands." Imagine for a moment what the world might be if we all could do that. This strategy is precisely what makes it possible for the South Asian dolphins that live in murky, shrinking rivers to survive another day, and to help one another survive. Perhaps this approach might be the answer to how we find intimacy in our relationships to our families and friends. Perhaps this is how we heal our democracy and society. Perhaps this is how we lengthen our human stay on this planet. What I can assure you is that meeting each moment, each person you meet in this spirit will make your life, day to day, feel connected and full of meaning."
"Being a person of faith in that world, one that is contingent and unpredictable, isn't then about sitting back and waiting for good times that are just around the corner, quite the opposite. As Rabbi Jonathan Sacks z"l wrote, 'Faith is not certainty, but the courage to live with uncertainty.' In that sense, I suppose, the pandemic has been a tutorial in the kind of faith about which Rabbi Sacks taught, the courage to live with uncertainty. Before these months and months of COVID, Yom Kippur would land on me like a splash of cold water washing away the delusions I constructed all year long that made my life feel predictable and controllable and certain. This year I hear louder and clearer one of the major themes of the Yom Kippur liturgy: we do not know what God has planned for us in the coming year. 'Mi yechiyeh, u'mi yamut. Who will live and who will die?' The question of who will live and who will die, the fragility of life, our lives, is always in the front of my mind. It is a question with only one answer, 'mi yodeah- who knows?' Saying, "who knows?" is actually quite liberating, because it's true, nearly all the time. We may think we know what is coming, we may even brace and prepare ourselves for our worst-case scenarios to come to fruition, but in the end, we really don't know. And if we allow ourselves to be okay not knowing how it will all work out in the future, then we have many more options of how to act and respond in the present. After all, sometimes things work out very differently than we would predict."
"It would be a mistake to box ourselves into such a simplistic conception of God as master in charge of it all. And it would be a shame if as soon as the shofar is blown at Ne'ila, the close of Yom Kippur, that we leave it to that God to be responsible for the blessings of our happiness, our prosperity and our capacity for forgiveness. What purpose did all this time in prayer and reflection serve if we go home today and live our lives as we did before until next Rosh Hashanah and Yom Kippur rolls around again, just crossing our fingers, merely hoping for the best? I'd prefer to believe that who and what God is, is far beyond what my mind can comprehend. If God is the power moving us to do good, then we have it within us to do good. If God is the source when love springs up in us, then we have it within our own power to love.

Sun, October 2 2022
7 Tishrei 5783
Current & Previous Messages
Sun, October 2 2022 7 Tishrei 5783