Our Rabbi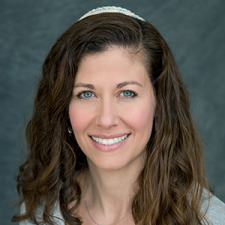 Rabbi Batsheva H. Meiri has served as spiritual leader of Congregation Beth HaTephila in Asheville, North Carolina since 2008 after serving congregations in New York and Maryland.
Since arriving in Asheville, Congregation Beth HaTephila has become Rabbi Meiri's laboratory. She calls CBHT "a Reform congregation that is deconstructing and renewing itself all the time." In that vein, she has been at the helm during a multi-year transformation of congregational worship that included training a Sacred Music Team (SMT) of professional musicians from the congregation to serve on the bima with her.
In partnership with the SMT, she led a seamless transition to a new Machzor, High Holy Day prayerbook, and has instituted complimentary programming that enhances the High Holy Day season.
She has also planted her love of all things contemplative and spiritual by offering a popular multi-generation 4 day retreat every summer, contemplative yoga classes, meditation classes, a B'nai Mitzvah retreat experience, and offers Israel trips and Tikkun Olam adventure travel opportunities.
All in all, Rabbi Meiri devotes herself to designing synagogue experiences for the congregation that bring us into real time engagement with Jewish tradition, with one another, and with the holy.
Rabbi Meiri graduated with distinction with a degree in Philosophy from the University of Wisconsin, Madison in 1991, and was ordained from the Hebrew Union College in New York in 1996. In 2009, she was named Senior Rabbinic Fellow of the Shalom Hartman Institute. She is a graduate of various study programs and fellowships.
Rabbi Meiri has been involved in numerous community organizations in New York and Baltimore. In Asheville, she is an honorary board member of the Jewish Community Center and Jewish Family Services. Nationally, she served on the Central Conference of American Rabbis' (CCAR) Committee on the Environment, was secretary of the Women's Rabbinic Network and represented it on the CCAR board.
Fri, December 8 2023 25 Kislev 5784